Are you looking to buy Zohd Nano Talon Evo in Australia?
An updated version of the Nano Talon! Now introducing the 860mm Wingspan Nano Talon EVO, which is more than just a "straight wing version" of the original one. It comes with many great features like having a bigger NACA air intake to keep all your electronics nice and cool. Built-in carbon fiber spar and extended plywood tray, bigger room to place your 18650 or additional FPV gear. GPS slot, crash-resistant and easily assemble are just some of the few features why the Nano Talon EVO is a must-have!
Specification
Item Name: Nano Talon EVO
Material: Crash Resistant EPP
Wingspan: 860mm (33.85")
Length: 570rnm (22.44in") 11%
Motor: SonnySky 2204-1870KV
ESC: 30A w/5V 2A BEC (Switch)
Servos: 9g Metal Gear
Propeller: 6x3
Flying Weight: 361g (w/o FPV gear)
CG: 3.5cm from the wing leading edge (marked under the wing)
Recommended Parts (Not Included)
Recommended Battery: Lipo from 3S to 4S 1300-2200mAh, Li-Ion 18650 4S1 P 3500mAh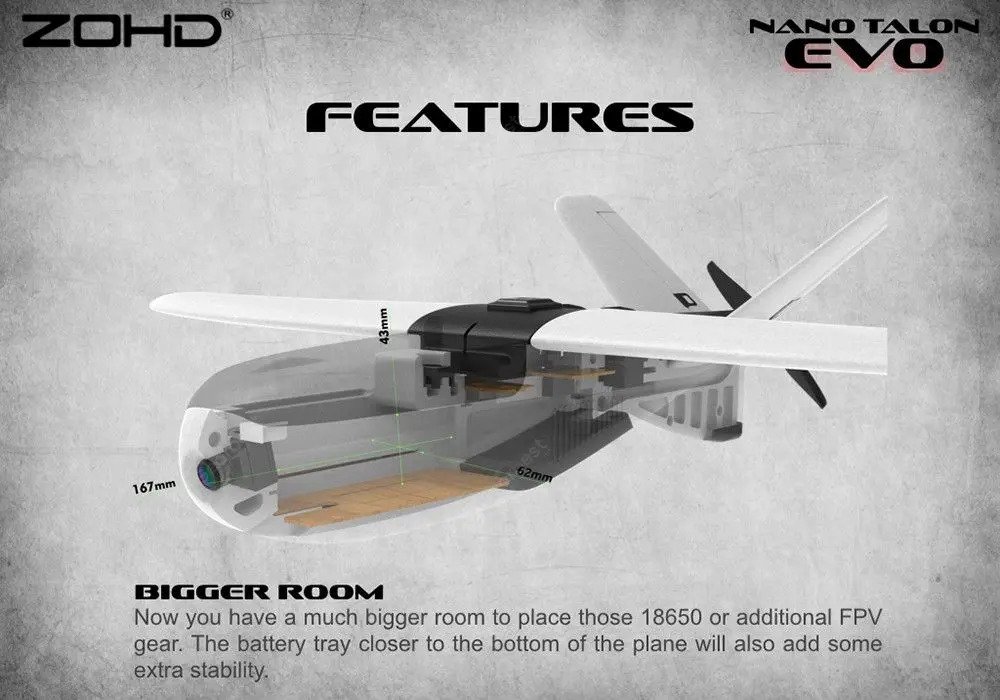 Features
EPP molded wing, built-in CF spar for enhancement, light, flexible and crash-resistant.
Straight wing instead of an anhedral wing to get a more stable and agile attitude.
Updated SunnySky motor with a longer shaft, compatible with regular propellers.
Updated 9g servos from plastic gear to metal gear.
Updated ESC from 30A with 5V 1A Linear BEC to 30A with 5V 2A Switch BEC.
Detachable main wing and tail wing for easy transport, easy to install. Improve connections for better aileron and tails stability
Enlarged battery bay for Lipos from 3S to 4S, and Li-Ions 18650 4S 2P 3500mAh
Bigger NACA air-inlet provides more air cooling for FPV gear inside the fuselage.
Built-in carbon fiber spar and extended plywood inside the fuselage for more strength in case of an impact.
Optional belly mapping camera bay and camera mount for mapping.
Texture marked on both sides of fuselage for a more secure hand launch grip.
Optional Tefl0n cover for fuselage bottom, super durable, protecting the fuselage bottom from scratches on landing.
Video
PNP Package Includes
x1 ZOHD Talon PNP with pre-installed motor, esc, servos, propeller, hardware.
x2 Wings
x2 Back Wings
x1 Prop
Skid Plate
x1 Full Body Carbon Fibre Rod
1 x Manual
FPV Ready Includes
1x Nano Talon EVO plane PNP with pre-installed motor, esc, servos, propeller, hardware
1x ZOHD Kopilot Lite
1x ZOHD VC400 All-in-one Video Camera
Browse more
Why Choose Phaser FPV?
Here's Why 1000s of Buyers Trust Us
In the sky-high world of FPV drones and related products, Phaser FPV takes you higher and further – while ensuring a smooth ride every step of the way. As a human brand that puts its clients first, here are a few of the ways we keep giving our customers reasons to come back.
Same-Day Ship
If you place your order with us before 1pm weekdays, we'll ship it out on the same day you shopped. When we make a promise, we keep it. You'll be hard-pressed to find any Phaser order that didn't fly out of our facility on the day it was ordered.
Transparent Stock
We keep our website updated like hawks. If you see it and it says it's in stock, you can order it today and get it tomorrow via express shipping.
Highly Rated
We've spent almost a decade racking in countless 5-star reviews. Give them a read and you'll see everything we have said here is true!
Walk In Anytime
Can't wait? Then don't. We're one of the only FPV drone + accessory stores to have a physical brick-and-mortar establishment in Gosford NSW Australia. You'll get to meet one of our friendliest – and fluffiest – employees, the Phaser FPV house dog, Piper!
Tech Precision
Our handpicked team of technology experts specialize in – and are boffins on – every product we sell. This means they can answer any and all of your technical questions with confidence. Go ahead, put us to the test.
Fast Support
We welcome our customers to reach out to us via email, phone, or LIVE chat. Phaser FPV is the only FPV business to have a dedicated phone line.
Get Rewarded
Score a FREE gift on first and recurring orders, and FREE shipping on orders worth $150. We'll even upgrade you to EXPRESS on all orders over $250 (excluding heavy orders)
We're on Social
We have nothing to hide. Follow us on social, tag @PhaserFPV, and become a part of our online community and family in our facebook group.
It's clear to see why most of our business comes through word-of-mouth referrals. When you need the best in FPV, 3D Printing and PEV Vehicles, don't settle for less. Demand the best – insist on Phaser FPV.