WARNING - This product is classified as a DANGEROUS GOOD [DG] - It CANNOT be shipped overseas or travel via air domestically. It can go via ROAD ONLY and transit times will be longer
Please read our battery warranty, safety information and transit times before purchasing.
Are you looking to buy ZOHD Lionpack 18650 2S1P 7.4v Li-ion Battery in Australia?
View our entire range of 2s Batteries
View our entire range of Li-Ion Batteries
View our entire range of Batteries
Lithium-Ion batteries are no stranger to the RC & FPV scene. These batteries have been around for years, especially for those who like to DIY. Most pilots are very familiar with the advantages and disadvantages of Li-ions, but it's also known that these batteries provide a much longer flight time than a regular Lithium Polymer (lipo) batteries. 
That's why ZOHD has designed a series of Lionpack high-performance batteries to help give pilots double their flight time! These batteries are also lightweight, safe and filled with lots of power.
ZOHD believes every pilot deserves high-quality professional packs!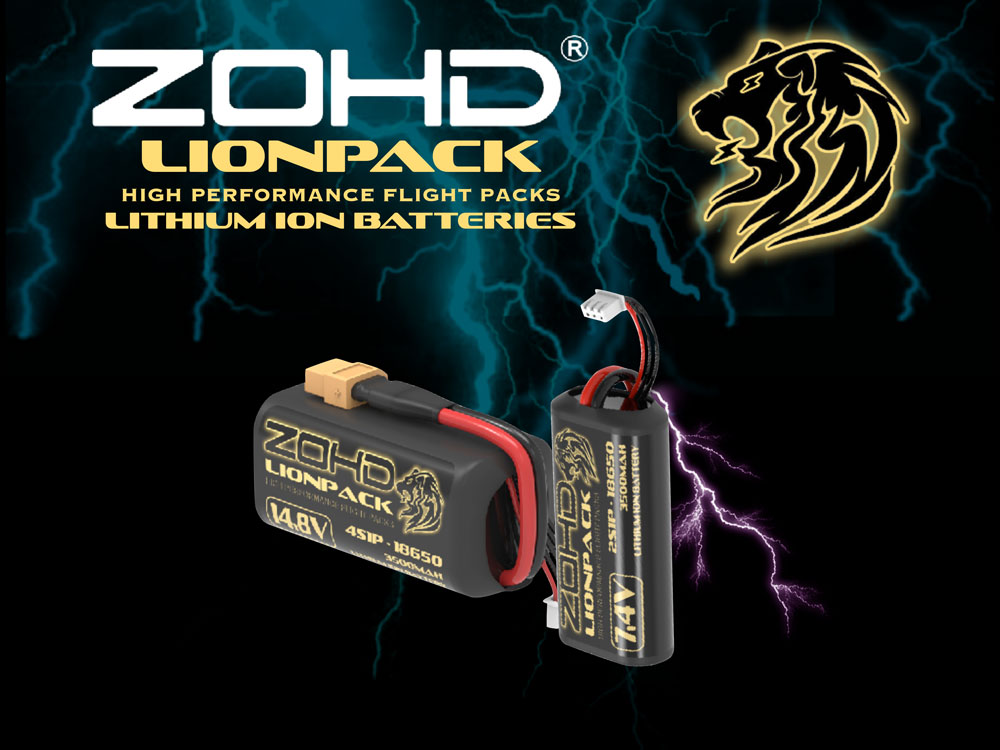 Features
Original brand-new SANYO high-quality cells.
ZOHD Lionpack batteries will never puff and become unsafe like a Li-Po.
ZOHD Lionpack batteries can be charged from empty or nearly full without damaging the pack.
ZOHD Lionpack batteries can be charged over 350 times and still store 85% of its original capacity.
High quality fireproof heat shrink outer skin.
Double heat shrink over XT terminals for extra protection.
Compact size.
Lightweight
Extra XT30-DC2.5 Converter (2S version), now you can power your FPV goggles with the same pack!
Ideal power solution for all RC hobby products, including RC cars, boats, etc...
Extra balance charger protector, don't kill your charging wires!
Extra RED/GREEN XT30 Protector, protect your connector and show you the energy status at any time
Extra ZOHD battery strap and Velcro to keep those batteries in place.
Specifications
Cell Model: SANYO NCR18650GA Capacity: 3500mAh
Nominal Voltage: 7.4V
Constant current: 1550mA
Maximum Charge Voltage: 4.2V per cell Max. Charge Current: 3.2A
End voltage: 2.5V per cell
Maximum Continuous Discharge Current: 10A Weight: 108g/3.81oz
Dimensions: 70mm * 38mm * 19.4mm
Power Lead: 100mm / 3.94in XT30
Balance Lead: 40mm / 1.57in XH2.54
Includes
1 x 2S1P 18650 3500mAh Li-ion Battery 
1 x XT30-DC2.5 Converter 
1 x RED/GREEN XT30 Protector / Indicator 
1 x Balance charger protector
1 x Velcro 
2 x ZOHD Battery Strap 
2 x ZOHD Decal 
Why Choose Phaser FPV?
Here's Why 1000s of Buyers Trust Us
In the sky-high world of FPV drones and related products, Phaser FPV takes you higher and further – while ensuring a smooth ride every step of the way. As a human brand that puts its clients first, here are a few of the ways we keep giving our customers reasons to come back.
Same-Day Ship
If you place your order with us before 1pm weekdays, we'll ship it out on the same day you shopped. When we make a promise, we keep it. You'll be hard-pressed to find any Phaser order that didn't fly out of our facility on the day it was ordered.
Transparent Stock
We keep our website updated like hawks. If you see it and it says it's in stock, you can order it today and get it tomorrow via express shipping.
Highly Rated
We've spent almost a decade racking in countless 5-star reviews. Give them a read and you'll see everything we have said here is true!
Walk In Anytime
Can't wait? Then don't. We're one of the only FPV drone + accessory stores to have a physical brick-and-mortar establishment in Somersby NSW Australia.
Tech Precision
Our handpicked team of technology experts specialize in – and are boffins on – every product we sell. This means they can answer any and all of your technical questions with confidence. Go ahead, put us to the test.
Fast Support
We welcome our customers to reach out to us via email, phone, or LIVE chat. Phaser FPV is the only FPV business to have a dedicated phone line.
Get Rewarded
Score a FREE gift on first and recurring orders, and discount shipping on orders over $99.
We're on Social
We have nothing to hide. Follow us on social, tag @PhaserFPV, and become a part of our online community and family in our facebook group.
It's clear to see why most of our business comes through word-of-mouth referrals. When you need the best in FPV & 3D Printing don't settle for less. Demand the best – insist on Phaser FPV.