Are you looking to buy
 

Lumenier AXII HD 2 Patch Visor 5.8GHz Antennas for DJI FPV Goggles DJI HD Goggles in Australia?

NOTE: If you want the whole set including stubbies please add 2x TRUERC Singularity 5.8 Stubby LHCP

This is the Lumenier AXII HD 2 Patch Visor 5.8GHz Antennas for DJI Digital HD FPV Goggles. A set of circular polarized, directional antennas specifically made for the DJI FPV Goggles. Designed to provide long range 5.8Ghz video reception in a compact form factor.

Building on the success of the original AXII HD antennas, the new AXII HD 2 improve on both looks and performance. Finally, a high-quality set of antennas designed as a direct replacement and upgrade for your stock DJI antennas for the DJI Digital HD FPV Goggles. The AXII HD 2 antennas were designed from the ground up to be a perfect match for the DJI goggles. The AXII HD 2 antennas feature a custom molded semi-transparent visor with embeded antennas inside. This provides a low profile, sleek looking, direct connect RP-SMA antenna solution, and all this with improved performance.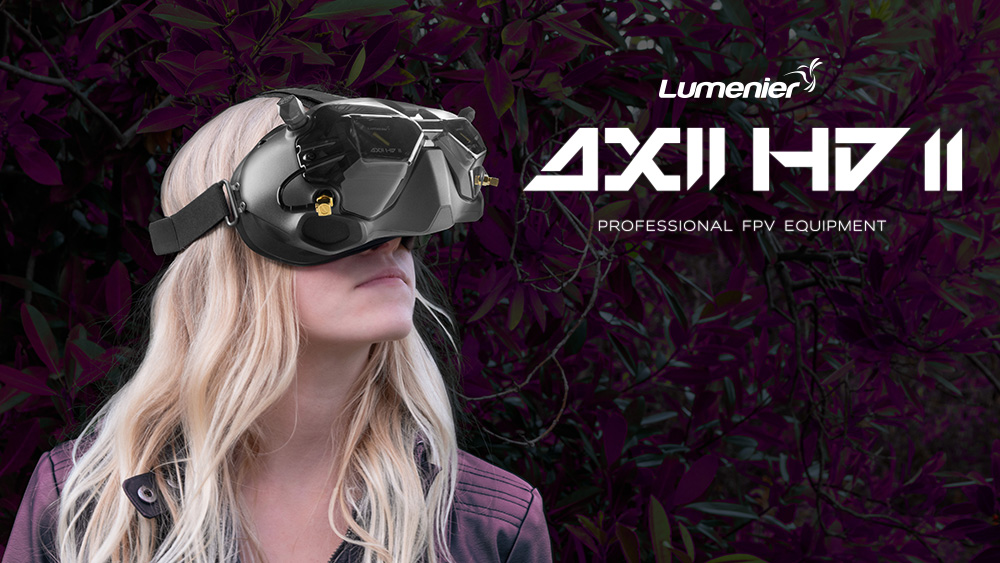 The Lumenier AXII HD 2 5.8GHz Patch Antenna offers you the highest performance you can get from a high gain mini patch antenna designed for DJI Digital HD FPV. The Lumenier AXII HD Patch has a high 8.4 dBiC gain for long range flying and excellent penetration through objects compared to standard omnidirectional FPV antennas. It also features an incredible 92% efficiency (most mini patch antennas are below 75%), which means you get amazing performance and the best picture in your video goggles. Lumenier, designed in collaboration with renowned FPV antenna designer Hugo of TrueRC, brings you the Lumenier AXII HD 5.8GHz Patch Antenna.
Form Fitting Design for DJI HD FPV Goggles

Not only do the AXII HD 2 Antennas have awesome performance, but they do it in an ultra-compact form factor with a custom injection-molded polycarbonate visor. This makes the antenna an ideal choice for your DJI HD system. Each Patch antenna comes pre-installed inside the visor making install a breeze. Since it is so small and compact you don't have to worry about bumping into things while wearing these antennas like other larger and heavier high gain antennas. Super easy to store in your travel bag as well, and no need to remove the antennas while traveling.
The injection molded polycarbonate case of the Micro AXII 2 Stubby fully protects the antenna elements inside allowing for easy, worry-free storage. The case is sealed with an ultra-sonic weld and is shock-resistant to protect from accidental drops.
High Gain & Wide Beam Width

Generally, with such a high gain antenna you would have to sacrifice the effective FOV (field of view) or beam width, but with the AXII HD 2 Patch Antenna you get the best of both worlds: High gain and wide beam width! The AXII HD Patch will give you 8.4dBiC gain while still covering over 76 degrees of horizontal beam and 68 degrees vertically. This means the antenna is more forgiving and can still give you a clear picture even if you aren't pointed exactly at your aircraft or transmitter.
Custom Colors to Match Your Style

Complete your look by choosing the color that matches your style. You can blend in with the sleek Smoke Gray color or stand out with bright colors like Blue, Orange, Green, or White.
The Lumenier AXII HD 2 Antennas are produced with high quality, low loss materials. The material is key to a good quality antenna, and even more so when it comes to performance. This technology along with precision manufacturing results in a top of the line receiving antenna.
Improvements over V1
Higher gain for longer range and improved signal penetration
Wider FOV (Field of View) for better overall coverage
Improved efficiency for improved signal reception/transmission
Antennas embedded into custom injection-molded faceplate for better protection
15 degrees of up-tilt built into the antenna mount improves signal
Features
Designed for DJI HD Digital FPV Goggles, form fitting
Compact low-profile design on your goggles, easy to store and transport
High gain directional antennas
LHCP Circular Polarization
Blue, Green, Orange, White, or Smoke Gray color choices
Premium quality and performance
Every antenna is QC checked for guaranteed best performance
Specifications
Model:

 

Lumenier AXII HD V2 Patch Visor Antenna
Frequency: 5.8GHz
Bandwidth: 220 Mhz
Gain: 8.4  dBiC
VSWR: 1:1.1
Radiation Efficiency: 95%
Beam Width: 76° H. 76° V. 
Polarization: (LHCP) Left Hand Circularly Polarized
Connector: RP-SMA (Fits DJI Goggles directly, not to be used on standard SMA)
Weight: 33g
Patented Design: US. Pat.
Includes
1x Lumenier AXII HD 2 5.8GHz Patch Visor Antennas (LHCP)
Browse more
Why Choose Phaser FPV?
Here's Why 1000s of Buyers Trust Us
In the sky-high world of FPV drones and related products, Phaser FPV takes you higher and further – while ensuring a smooth ride every step of the way. As a human brand that puts its clients first, here are a few of the ways we keep giving our customers reasons to come back.
Same-Day Ship
If you place your order with us before 1pm weekdays, we'll ship it out on the same day you shopped. When we make a promise, we keep it. You'll be hard-pressed to find any Phaser order that didn't fly out of our facility on the day it was ordered.
Transparent Stock
We keep our website updated like hawks. If you see it and it says it's in stock, you can order it today and get it tomorrow via express shipping.
Highly Rated
We've spent almost a decade racking in countless 5-star reviews. Give them a read and you'll see everything we have said here is true!
Walk In Anytime
Can't wait? Then don't. We're one of the only FPV drone + accessory stores to have a physical brick-and-mortar establishment in Somersby NSW Australia.
Tech Precision
Our handpicked team of technology experts specialize in – and are boffins on – every product we sell. This means they can answer any and all of your technical questions with confidence. Go ahead, put us to the test.
Fast Support
We welcome our customers to reach out to us via email, phone, or LIVE chat. Phaser FPV is the only FPV business to have a dedicated phone line.
Get Rewarded
Score a FREE gift on first and recurring orders, and discount shipping on orders over $99.
We're on Social
We have nothing to hide. Follow us on social, tag @PhaserFPV, and become a part of our online community and family in our facebook group.
It's clear to see why most of our business comes through word-of-mouth referrals. When you need the best in FPV & 3D Printing don't settle for less. Demand the best – insist on Phaser FPV.