Are you looking to buy a Toothpick F405 AIO Brushless Flight Controller in Australia?
The new ultralight Toothpick F405 2-4S AIO 20A FC is finally released! Compared with the V3 version, the new V4 board updates the F411 chip to F405. It can handle 20A of continuous current and up to 4S! Strong performance lets you break through the limits of your quad and explore more possibilities in the flight.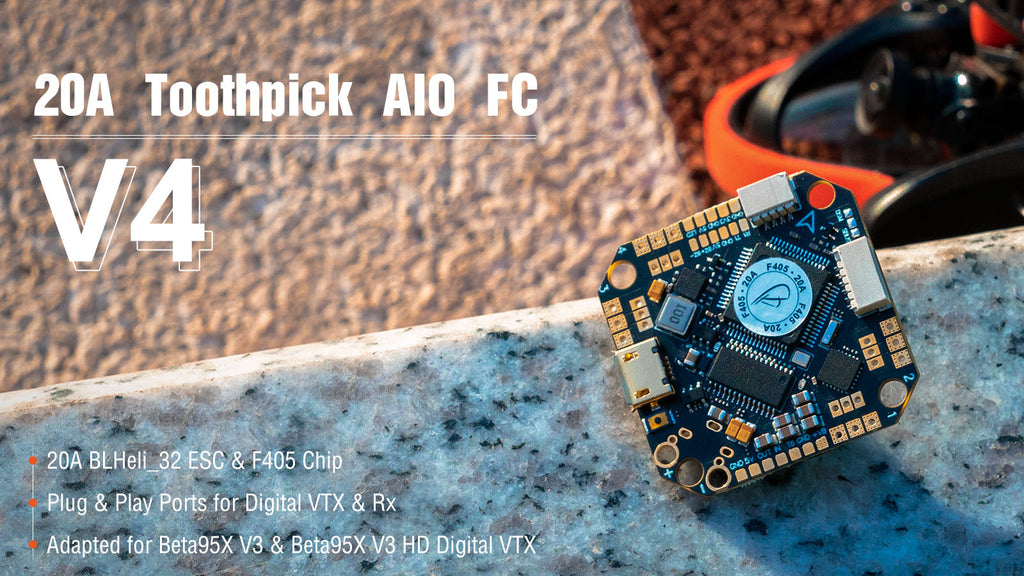 Bullet Point
Updated the F411 chip to F405, this new 20A AIO board handles a continuous current of 20A and a burst current of 22A, bringing pilots a more stable flight. 
BETAFPV 12A/20A AIO flight controller reserves the same UART ports layout, UART3 for Rx, UART4 for DJI, UART6 for SmartAudio and the Spare UART1, more convenient for pilots to solder.
Come with 2 integrated Plug & Play Ports for both digital VTX and Rx, less solder work needed, easy to install. 
Come with a 26mm x 26mm whoop mounting pattern, this board can be added to both the toothpick drone and the cinematic whoop quadcopter.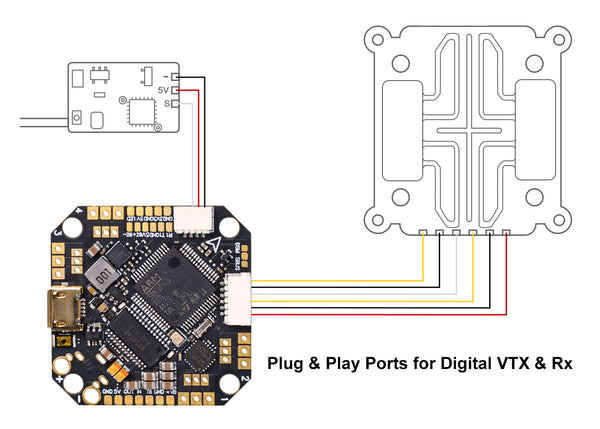 Comparison of Toothpick 12A AIO FC, Toothpick 20A AIO FC and Toothpick F405 20A AIO FC V4

Specifications of FC
CPU: STM32F405RGT6
Six-Axis: MPU6000
Size: 26mm x 26mm, whoop mounting pattern
Firmware version: Batefight-BETAFPV405-4.2.X
OSD: Built-in BetaFlight OSD (STM32 controls OSD chip over SPI in DMA mode)
Receiver: Support Frsky XM/XM+ Receiver/ Futaba Receiver/ Flysky Receiver/ TBS Crossfire Receiver/DSMX Receiver
Connecter: XT30, it also can be changed to XT60 if pilots needs.
Weight: 5.76g
Specifications of ESC
Support PWM, Oneshot125, Oneshot42, Multishot, Dshot150, Dshot300,Dshot600
Input voltage: 2S-4S Lipo
Continuous current: 20A
Peak current: 22A
Firmware: BLHELI-32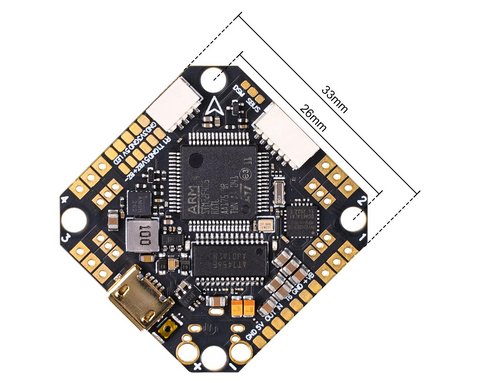 Diagram for Toothpick F405 20A AIO FC V4
Status LED 
There are 2 LEDs on the bottom of the board to indicate the status, including the Power LED ( Red), FC LED(Blue).
| | | |
| --- | --- | --- |
| LED | Status | Description |
| Power LED ( Red) | Solid | Power on |
| FC LED ( Blue ) | Solid | Motor Armed |
How to Connect the External Rx to Toothpick F405 20A AIO FC V4
The new AIO board has integrated the Plug & Play Port for the external Rx, and there will be a 4-Pin connector for Rx in the package. Thus, we highly recommend pilots to use pin-connect to save the solder work. In addition, please notice that when you connect the different external Rx, the pads near the pin need to be soldered in a different way. Please solder it as the following diagram. 


Package
1 * Toothpick F405 20A AIO FC V4
1 * Cable Pigtail (XT30)
4 * M2x10mm screws
4 * M2 nuts 
4 * Anti-vibration rubber dampers
4 * Motor Pluggable Pins
1 * 6-Pin Connector for Digital VTX
1 * 4-Pin Connector for Rx
Browse more
Why Choose Phaser FPV?
Here's Why 1000s of Buyers Trust Us
In the sky-high world of FPV drones and related products, Phaser FPV takes you higher and further – while ensuring a smooth ride every step of the way. As a human brand that puts its clients first, here are a few of the ways we keep giving our customers reasons to come back.
Same-Day Ship
If you place your order with us before 1pm weekdays, we'll ship it out on the same day you shopped. When we make a promise, we keep it. You'll be hard-pressed to find any Phaser order that didn't fly out of our facility on the day it was ordered.
Transparent Stock
We keep our website updated like hawks. If you see it and it says it's in stock, you can order it today and get it tomorrow via express shipping.
Highly Rated
We've spent almost a decade racking in countless 5-star reviews. Give them a read and you'll see everything we have said here is true!
Walk In Anytime
Can't wait? Then don't. We're one of the only FPV drone + accessory stores to have a physical brick-and-mortar establishment in Gosford NSW Australia. You'll get to meet one of our friendliest – and fluffiest – employees, the Phaser FPV house dog, Piper!
Tech Precision
Our handpicked team of technology experts specialize in – and are boffins on – every product we sell. This means they can answer any and all of your technical questions with confidence. Go ahead, put us to the test.
Fast Support
We welcome our customers to reach out to us via email, phone, or LIVE chat. Phaser FPV is the only FPV business to have a dedicated phone line.
Get Rewarded
Score a FREE gift on first and recurring orders, and FREE shipping on orders worth $150. We'll even upgrade you to EXPRESS on all orders over $250 (excluding heavy orders)
We're on Social
We have nothing to hide. Follow us on social, tag @PhaserFPV, and become a part of our online community and family in our facebook group.
It's clear to see why most of our business comes through word-of-mouth referrals. When you need the best in FPV, 3D Printing and PEV Vehicles, don't settle for less. Demand the best – insist on Phaser FPV.