Are you looking to buy BetaFPV Beta95x V3 Whoop Quadcopter in Australia
Beta85 Pro 2, a new approach to the 2S micro formula which optimizes weight. This provides a smoother flight experience that's easier to control at high speed and easier on battery life as well. With an F4 2S AIO FC and 1103 11000Kv motors lifting only 42g plus battery, you have plenty of power to use both indoor and outdoor spaces as a small scale acro playground. The weight savings also provide a handling advantage on the race course, allowing tighter turns and making it easier to hit gates. 
BETAFPV always tailor a new FPV combine to meet every FPV pilots' requirement. Pro 2 series is our product line with lighter, faster and higher integrated brushless drones.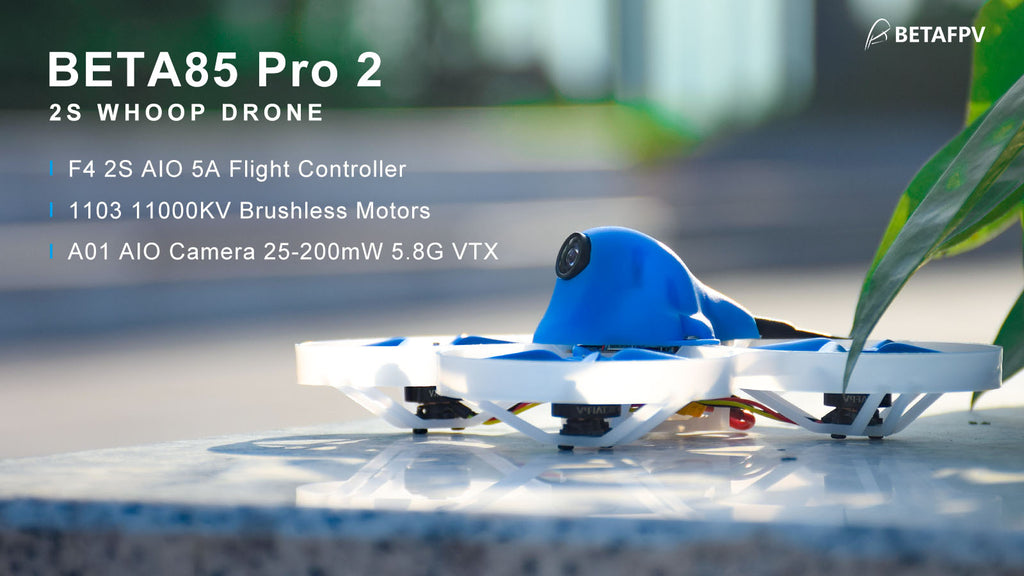 So now we have 3 versions for your choice in Pro 2 series- Beta65 Pro2, Beta75 Pro2, Beta85 Pro2.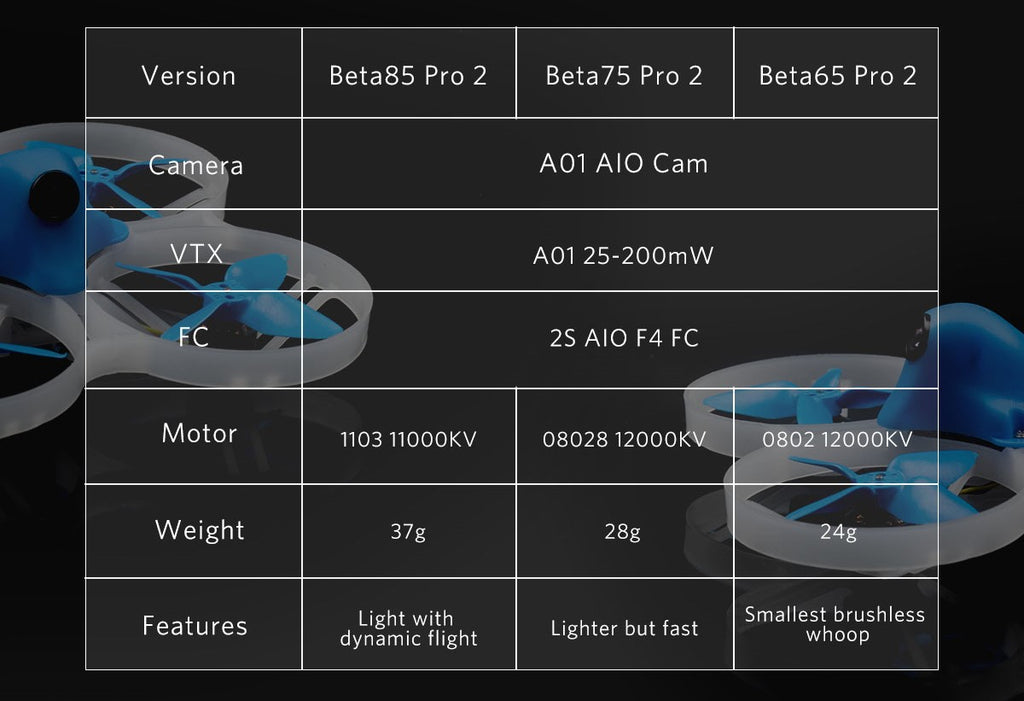 Inspired by Justin Davis & Nate Payne's ShutterBug85, this build is dramatically reduced weight and optimized the flight experience, and the acro performance is really awesome. Beta85 Pro 2 is the best combine for pilots, you do not need to assemble it by hand but also get more power on punch for acro mode.
Bullet Point
Beta85 Pro 2 starts a new era of 2S whoop, which could fly real acro, like a larger quad, but is still safe enough, light enough, and durable enough to fly anywhere, especially suitable for racing.
With the high-performance STM32F411CEU6 processor FC boards and tuned betaflight_matekf411rx_4.0.0(Development Version), everyone could fly the Beta85 Pro 2 drone like a racing pro.
With durable and light enough frame. Total weight of 42g gives pilots a good balance of weight and nice punch on 2S battery.
Whole drone no soldering or tinkering necessary. Customized lightest 1103 11000KV motors with cable connectors. Just plug and play.
300mAh 2S high rate battery is recommended by default. The drone comes with XT30 cable, convenient for intalling the 2S battery. But pilots could also use their whoop batteries with a replaced power cable. Optional and affordable.
Specification
Weight: 42g (without battery)
FC:F4 2S AIO FC (with XT30 cable)
Motors: 1103 11000KV with connector
Props: EMAX Avan 2'' 4-Blade Propellers (1.5mm Shaft) or Gemfan 2020 4-Blades Props
Camera&VTX: A01 AIO Camera 5.8G VTX
Frame: Beta85 Pro2 Frame
Canopy: Canopy for micro camera / Canopy for Tiny Whoop Drone
Receiver Option: SPI Frsky FCC / SPI Frsky LBT/ DSMX / Futaba S-FHSS / Flysky/TBS Crossfire
Battery: 300mah 2S Battery
Flight time: 2 minutes and a half with 300mAh 2S battery (smooth flight in a windless environment)
18AWG cord length 65mm with a capacitor
FC & ESC SPECIFICATIONS
2S AIO F4 FC - It is suitable for a lighter 1-2S whoop drone perfectly, like Beta65 Pro 2or Beta75 Pro 2 etc. It integrated with a Betaflight F411 processor FC, Betaflight OSD, SPI Frsky receiver and 1-2S 5A ESC. So the 1-2S drone could save much weight for a faster fly experience.
A01 AIO Camera 5.8G VTX
The A01 AIO Camera combo is perfect for Pro2 Series whoop drone, which is integrated with A01 VTX, 5.8GHz FPV Transmitter, 600TVL FPV Camera and Dipole Whip Antenna.
Package
1 * Beta85 Pro 2 Whoop Quadcopter (2S)
1 * 300mAh 2S 45C Battery (Not for PNP version)
1 * EMAX Avan 2'' 4-Blade Propellers (1.5mm Shaft)
Why Choose Phaser FPV?
Here's Why 1000s of Buyers Trust Us
In the sky-high world of FPV drones and related products, Phaser FPV takes you higher and further – while ensuring a smooth ride every step of the way. As a human brand that puts its clients first, here are a few of the ways we keep giving our customers reasons to come back.
Same-Day Ship
If you place your order with us before 1pm weekdays, we'll ship it out on the same day you shopped. When we make a promise, we keep it. You'll be hard-pressed to find any Phaser order that didn't fly out of our facility on the day it was ordered.
Transparent Stock
We keep our website updated like hawks. If you see it and it says it's in stock, you can order it today and get it tomorrow via express shipping.
Highly Rated
We've spent almost a decade racking in countless 5-star reviews. Give them a read and you'll see everything we have said here is true!
Walk In Anytime
Can't wait? Then don't. We're one of the only FPV drone + accessory stores to have a physical brick-and-mortar establishment in Somersby NSW Australia.
Tech Precision
Our handpicked team of technology experts specialize in – and are boffins on – every product we sell. This means they can answer any and all of your technical questions with confidence. Go ahead, put us to the test.
Fast Support
We welcome our customers to reach out to us via email, phone, or LIVE chat. Phaser FPV is the only FPV business to have a dedicated phone line.
Get Rewarded
Score a FREE gift on first and recurring orders, and discount shipping on orders over $99.
We're on Social
We have nothing to hide. Follow us on social, tag @PhaserFPV, and become a part of our online community and family in our facebook group.
It's clear to see why most of our business comes through word-of-mouth referrals. When you need the best in FPV & 3D Printing don't settle for less. Demand the best – insist on Phaser FPV.