WARNING - This product is classified as a DANGEROUS GOOD [DG] - It CANNOT be shipped overseas or travel via air domestically. It can go via ROAD ONLY and transit times will be longer
Please read our battery warranty, safety information and transit times before purchasing.
Are you looking to buy BetaFPV Beta65x Micro Drone in Australia? Walk into our store at Phaser FPV located in NSW Gosford to see them or buy online today.
View all related products to the Beta65x
View all other BetaFPV products here.
Do you still remember the first classical brushless Beta65X whoop? BETAFPV has now created the new generation of Beta65X 2S whoops, which come with the 0802 14000KV motor and 2pcs of BT2.0 300mAh batteries, providing you an insane flying experience! Use the Meteor65 frame and the stackable battery slot to cut down on the wind resistance, extending your flight time to 3:00-4:00 mins. The HD version is also available!
Video
Features
Small size and big power. This is what the Beta65X is! The total weight of 26g gives pilots a good balance of weight and nice punch on 2S battery.
Customized with the lightest 0802 14000KV motors, give you an extreme power no matter you fly indoor or outdoor.
Soldered with the BT2.0 connector, which can provide a stable and powerful continuous current so that you can extend the flight time to 3:00-4:00mins compared to the Beta65 Pro 2.
Used Meteor65 frame and adopted the stackable battery slot to cut down on the wind resistance.
With the high performance STM32F411 processor FC boards and betaflight_matekf411rx_4.0.0 (Development Version).
Specifications
ItemL Beta65X
Weight: 26g (without battery)
FC: F4 AIO 2S FC
Frame: Meteor65 Frame
Motors: 0802 14000KV Motor
Camera: C01 Pro Micro Camera
VTX: 25mW VTX
Canopy: Canopy for Micro Camera
Receiver Option(Internal): Frsky FCC/ Frsky LBT/ Futaba/ PNP
Receiver Option(External): DSMX/ Flysky/ TBS Crossfire
Batteries: 2pcs BT2.0 300mah Batteries
Camera & VTX
The C01 Pro Micro Camera is a rare FPV camera currently on the market, which adapted a 1/3'' CMOS sensor and a 2.1mm lens for 1200TVL resolution and excellent latency while minimizing the weight to 1.96g. Designed specifically for those weight-sensitive drones, such as Brushed & Brushless Whoop Quad.
The stock VTX on the 65X 2S drone is the M series 25mW VTX.
Flight Controller
This F4 AIO 2S FC is suitable for a lighter 1-2S whoop drone perfectly, like Beta65X,Beta65 Pro 2 or Beta75 Pro 2, etc. It integrated with a Betaflight F411 processor FC, Betaflight OSD, SPI Frsky receiver, and 1-2S 5A ESC. So the 1-2S drone could save much weight for a faster fly experience.
Meteor65 Frame
Meteor65 frame is the most popular and colorful 65mm frame in this winter.
We only need to add a 0.3g 3D printed adapter and change it to a 2S 65mm frame. Still light enough and you could experience the aggressive power of 2S now.
Motors
0802 14000KV motors using ball bearing instead of brass bushings, and PCB connector. More durable and easier to repair once disconnection. 
BT2.0 Connector
BETAFPV exclusive designed BT2.0 connector has broken through the bottle-neck of PH2.0 connector. BT2.0 connector has decreased internal resistance of connector effectively allowing more current to be transferred, which means it supports 9A continuous current (15A burst). This means stronger power and longer flight time on 1S brushless drones while PH2.0 just supports 4.5A. You can enjoy more flight time without disturb of low voltage warning due to reducing voltage sag. For more instruction, click here.
Includes
1 x Beta65X  Whoop Quadcopter (2S)
1 x Spare 31mm 4-blades props (2CW+2CCW)
2 x BT2.0 300mAh 1S Lipo batteries
1 x BT2.0-PH2.0 Adapter Cable
1 x Spare Canopy
1 x Screwdriver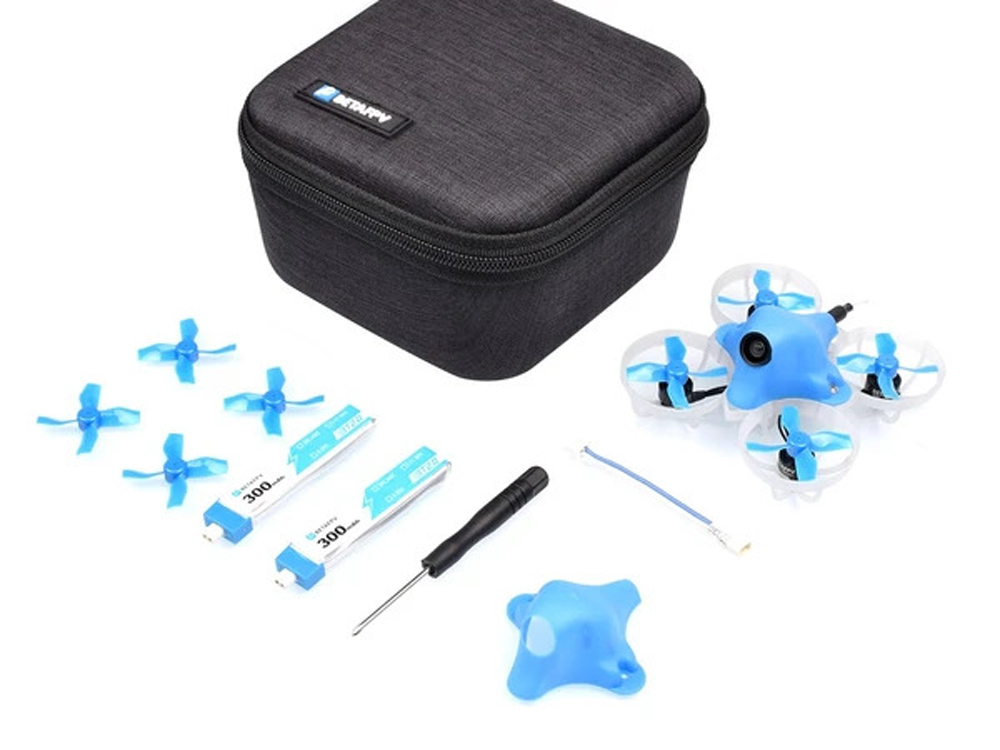 Why buy BetaFPV products from Phaser FPV in Australia?
Official reseller of BetaFPV products in Australia. Check out the whole range here.
FREE gift on first and recurring orders
FREE shipping on orders over $120
FREE express* shipping over $250
2 year local repair Centre Fatshark warranty
Large Facebook Community for like-minded individuals.
Active on social media - Tag us or DM us!
Our staff flies & use these products regularly. Confused or not sure what to buy? Give us a call.
Visit us in-store in NSW - We are located 1 hour north of Sydney in Gosford.
Phaser started in 2012 - History of reputable store and 5 star reviews.