Are you looking to buy a Radiomaster Ranger Micro ELRS TX Module in Australia?
Want to experience the efficiency, long range and low latency of the ELRS protocol without purchasing a new radio? RadioMaster has you covered!
NOTE: our modules are version pcb 1.6 and have the XT30 Input power issue RESOLVED
Featuring up to 1W output, F-1000Hz refresh rates and a high-efficiency cooling system, the Ranger Micro 2.4GHz ELRS Module represents the cutting edge in ELRS technology. Attach the module to a compatible radio (TX16S, TX16S MkII, TX12, TX12 MkII and more) to enjoy all that ELRS has to offer.
The included T-shape antenna is designed for maximum signal coverage. An optional MOXON antenna is available for directional applications.
Features
High-efficiency cooling system

Up to 1Watt Power output 

Wifi and Bluetooth support

Packet rates up to F-1000Hz

T-antenna included

With the Micro connector, support TX16S MKII and TX12 MKII radio
Specification
Item: Ranger Micro 

Module

Regulatory Domain: ISM2400

MCU: ESP32(main), ESP8285(aux,as ESP backpack)

Frequency Range: 2400 MHz - 2480 MHz

Maximum packet rate: 500Hz/F-1000Hz (F-1000Hz mode requires EgdeTX 2.7.1 or later)

Minimum receiver refresh rate: 25Hz

RF Output Power: 30dBm for FCC, 20dBm for CE (Adjustable by LUA) 

XT30 Power supply voltage: DC 6V - 16.8V

Weight:  50g (with antenna) / 40.5g (without antenna)

Dimension: 136*49*33mm (with T antenna) / 74*49*33mm (without antenna)
Size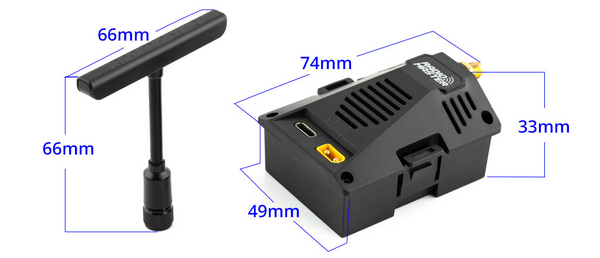 Package Includes
Why Choose Phaser FPV?
Here's Why 1000s of Buyers Trust Us
In the sky-high world of FPV drones and related products, Phaser FPV takes you higher and further – while ensuring a smooth ride every step of the way. As a human brand that puts its clients first, here are a few of the ways we keep giving our customers reasons to come back.
Same-Day Ship
If you place your order with us before 1pm weekdays, we'll ship it out on the same day you shopped. When we make a promise, we keep it. You'll be hard-pressed to find any Phaser order that didn't fly out of our facility on the day it was ordered.
Transparent Stock
We keep our website updated like hawks. If you see it and it says it's in stock, you can order it today and get it tomorrow via express shipping.
Highly Rated
We've spent almost a decade racking in countless 5-star reviews. Give them a read and you'll see everything we have said here is true!
Walk In Anytime
Can't wait? Then don't. We're one of the only FPV drone + accessory stores to have a physical brick-and-mortar establishment in Somersby NSW Australia.
Tech Precision
Our handpicked team of technology experts specialize in – and are boffins on – every product we sell. This means they can answer any and all of your technical questions with confidence. Go ahead, put us to the test.
Fast Support
We welcome our customers to reach out to us via email, phone, or LIVE chat. Phaser FPV is the only FPV business to have a dedicated phone line.
Get Rewarded
Score a FREE gift on first and recurring orders, and discount shipping on orders over $99.
We're on Social
We have nothing to hide. Follow us on social, tag @PhaserFPV, and become a part of our online community and family in our facebook group.
It's clear to see why most of our business comes through word-of-mouth referrals. When you need the best in FPV & 3D Printing don't settle for less. Demand the best – insist on Phaser FPV.