Are you looking to buy a 2Fiddy HD 5" Ultra Light Freestyle BNF Quad in Australia?
Lumenier has built an HD BNF version of the Ummagawd 2Fiddy 5" Ultra Light Freestyle Frame!
This frame was designed to be simple yet durable. With 4mm carbon fiber arms, smooth Ummagawd Aerolite 2004 1600KV 6S motors, Caddx Vista Polar Micro Camera Unit, and an iFlight Beast F7 45A AIO... this RTF is ready to fly! Simply bind your goggles and remote and tune into a buttery smooth flight.
This build now includes Lumenier's 220mm indestructible kevlar LiPo straps!
VIDEO: Ummagawd 2Fiddy 5" Ultra Light Freestyle RTF - 6SUmmagawd 2Fiddy Sub250g Freestyle Ripper
Features
This HD RTF is Pre-Built and tested at our premier Lumenier facility here in Florida.
iFlight Beast F7 45A AIO w/ updated XT30U Connector (Works with XT30 also)
Built with the Caddx Vista Polar Micro Unit
Toilet Tank OR Standard Battery Position
Ultra-lightweight Sub250 Design
4mm Thick Quick Swap Arms
Universal FC Mounting
Versatile and durable
Ultra Lightweight
There's no doubt that a 250g 5" Freestyle Drone is a new category, with very different design goals and limitations. Extracting as much power, response, durability, and of course "fun", this RTF gets as CLOSE to an AUW of 250g as possible
Why? Because let's face it, having some weight to toss around allows for a bit more "expression" with your freestyle and there's something just absolutely satisfying about it.
So, the frame was tested and simulated a variety of carbon thicknesses, component layouts, and fasteners. Simply scaling down a 5" frame may introduce frame resonance, and that will certainly affect performance. Although some resonance and vibrations can be smoothed out by firmware features, great frames shouldn't require special filtering to run smoothly.
Frame
One of the most unique features of this frame is its versatility for mounting your FC/ESC. Use of AIO flight controllers saves weight but doesn't limit people to one layout. The 2Fiddy frame has holes for 30.5x30.5, 20x20, and whoop style layouts. Although running an AIO board is recommended, you can even run a dual FC/ESC stack by simply flipping the arms under the bottom plate and using the included 20mm standoffs.
While the frame was designed specifically around the Caddx Vista FPV system, analog FPV gear will work just fine for other types of builds. The rear section has 20x20 mounting holes that line up with the vista unit, and the top plate has a little notch to keep your antenna centered along with the rear standoff. This design allows you to simply use a zip tie to mount your antenna without the need for a 3d printed part. The front camera cage is spaced for a 20mm DJI camera, however, smaller 19mm micro analog cameras work just fine. There are double slotted mounting holes for the DJI camera as well as a dedicated center hole for cameras such as the Nebula Pro HD or Caddx Polar Micro, which provides 0-35 degrees of tilt. The cam cage features an innovative plate-lock design that ensures maximum camera protection while ensuring that the cage won't pop out in a crash.
Durable
Arms are locked in place by two bolts and use press nuts for both ease of use and to keep the attachment locations as low profile as possible. No arm mounting hardware is shared with any electronics and the arms meet at the middle for a unibody-like stiffness. These arms were not only tuned for reduced resonance, and ease of replacement, but are also made to be as durable as possible without causing a break elsewhere on the frame.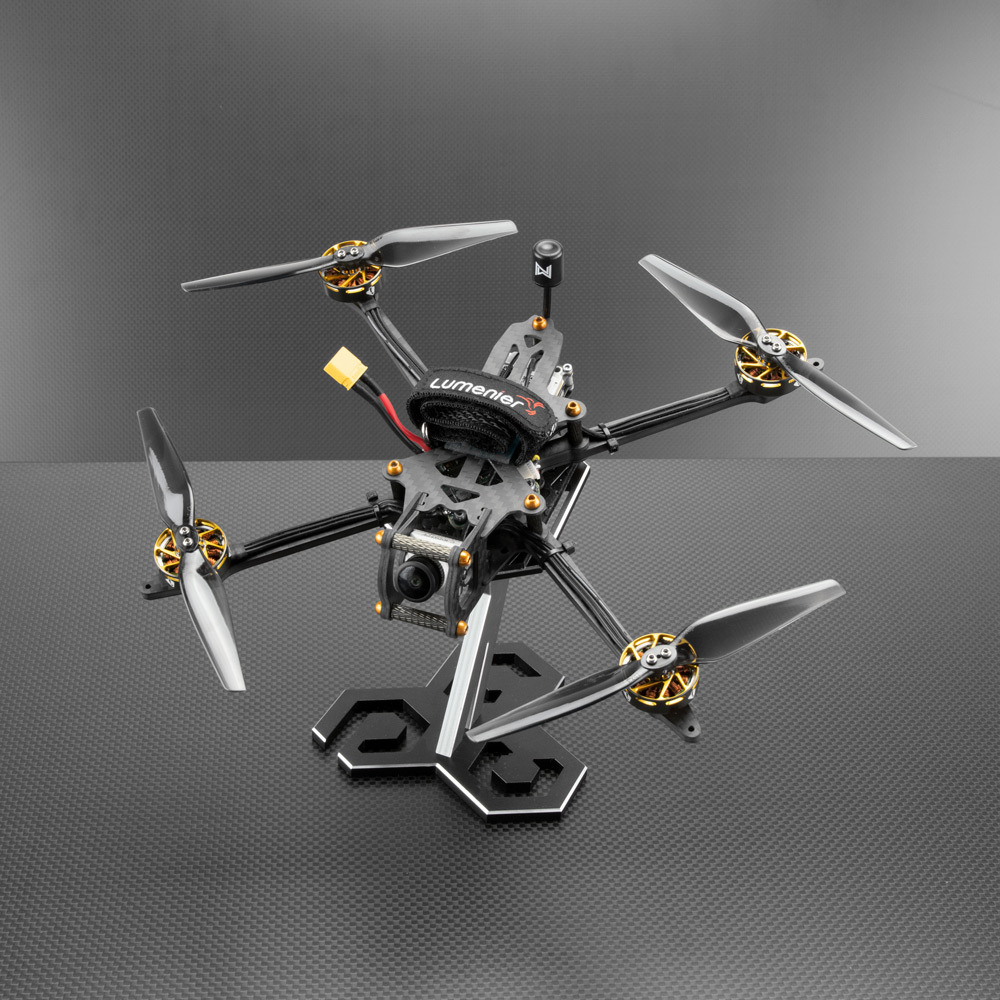 Specifications
Motors: Ummagawd Aerolite 2004 1600KV 6S
VTX/Camera: Caddx Vista Polar Micro
FC/ESC: iFlight Beast F7 45A AIO
Props: HQ Prop T5X3 (GREY)
Weight: 180g (without battery)
RX: DJI (PNP) OR Crossfire
Frame: Ummagawd 2Fiddy
Carbon Thickness: 4mm
Brand: Ummagawd
Arm Size: 5" 
Includes
1x 2Fiddy HD 5" Ultra Light Freestyle RTF w/ Caddx Polar Micro - 6S (PNP or TBS Crossfire options)
2x Lumenier Indestructible Kevlar Lipo Strap - 16x220mm
Browse more
Why Choose Phaser FPV?
Here's Why 1000s of Buyers Trust Us
In the sky-high world of FPV drones and related products, Phaser FPV takes you higher and further – while ensuring a smooth ride every step of the way. As a human brand that puts its clients first, here are a few of the ways we keep giving our customers reasons to come back.
Same-Day Ship
If you place your order with us before 1pm weekdays, we'll ship it out on the same day you shopped. When we make a promise, we keep it. You'll be hard-pressed to find any Phaser order that didn't fly out of our facility on the day it was ordered.
Transparent Stock
We keep our website updated like hawks. If you see it and it says it's in stock, you can order it today and get it tomorrow via express shipping.
Highly Rated
We've spent almost a decade racking in countless 5-star reviews. Give them a read and you'll see everything we have said here is true!
Walk In Anytime
Can't wait? Then don't. We're one of the only FPV drone + accessory stores to have a physical brick-and-mortar establishment in Gosford NSW Australia. You'll get to meet one of our friendliest – and fluffiest – employees, the Phaser FPV house dog, Piper!
Tech Precision
Our handpicked team of technology experts specialize in – and are boffins on – every product we sell. This means they can answer any and all of your technical questions with confidence. Go ahead, put us to the test.
Fast Support
We welcome our customers to reach out to us via email, phone, or LIVE chat. Phaser FPV is the only FPV business to have a dedicated phone line.
Get Rewarded
Score a FREE gift on first and recurring orders, and FREE shipping on orders worth $150. We'll even upgrade you to EXPRESS on all orders over $250 (excluding heavy orders)
We're on Social
We have nothing to hide. Follow us on social, tag @PhaserFPV, and become a part of our online community and family in our facebook group.
It's clear to see why most of our business comes through word-of-mouth referrals. When you need the best in FPV, 3D Printing and PEV Vehicles, don't settle for less. Demand the best – insist on Phaser FPV.