Are you looking to buy a BetaFPV F4 1S 5A AIO Brushless Flight controller in Australia?
The classical ultralight F4 1S brushless FC comes back with SPI ExpressLRS 2.4G receiver.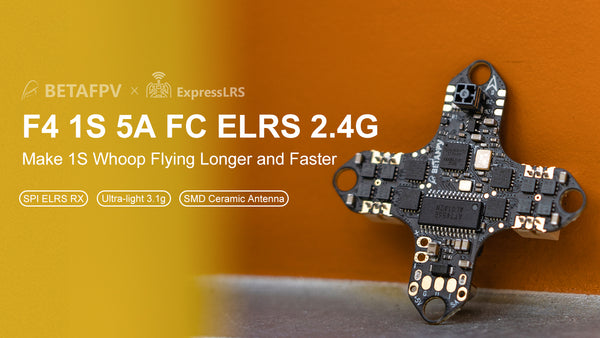 SPECIFICATIONS OF FC
CPU: STM32F411CEU6 ( 100MHZ )
Six-Axis: ICM-20689/MPU-6000
Built-in Receiver: SPI ExpressLRS 2.4G
Receiver antenna: 2.4GHz SMD ceramic antenna
Size: 29mm x 29mm, fully mounting pattern compatible with the whoop frame in the current market
Firmware version: betaflight_4.3.0_STM32F411_norevision
OSD: Built-in BetaFlight OSD
Recommend VTX: >=200mW, like BETAFPV M03 350mW VTX or TBS Unify VTX
Power Cable: 55mm, with BT2.0 connector
Weight: 3.13g (no power cable included)
SPECIFICATIONS OF ESC
Power supply: 1S
Current: 5A continuous and peak 6A (3 seconds)
Support BLHeliSuite programmable
Factory firmware: O_H_5_48_REV16_8.HEX
Signal Support: D-shot150, D-shot300, D-shot600, Oneshot125, Multishot, PWM
Betaflight Firmware and CLI
Since Betaflight has not yet released the official firmware that could supports the SPI ExpressLRS protocol, the current version is the Beta version. Please use the firmware and the CLI dump file below to recovery the FC board if needed. Betaflight will update to their official target soon. Please feel free to contact with us if you have any issues with this Beta version Firmware.
It is normal that there is no any option on Betaflight Configurator Receiver. As show below, the checkbox is blank.

Please change the "PID loop frequency" to "4KHZ" , sometimes it would make the SPI receiver not working correct while the value is "8KHZ".

Download the firmware and CLI dump file for the F4 1S 5A FC (ELRS 2.4G) board.
How to Bind with Betaflight FC with SPI ExpressLRS Receiver.
More details and discussion on Github about SPI ELRS receiver.
RECOMMENDED PARTS LIST
Battery: BT2.0 300mAh 1S Battery
Frame:  Meteor65 frame / Meteor75 frame
Props: 31mm 4-Blades props (for 65mm frame) / 40mm 4-blades props (for 75mm frame)
Motors: 0603 motors / 0703 motors / 0802 motors
VTX: M03 25-350mW VTX 
DIAGRAM
Larger motor pad for conveniencty solder directly.
 
PACKAGE
1 * F4 1S brushless flight controller (BT2.0 Connector)
4 * M1.2x4mm screws
4 * M1.4x5mm screws
4 * Anti-vibration rubber dampers
Browse more
Why Choose Phaser FPV?
Here's Why 1000s of Buyers Trust Us
In the sky-high world of FPV drones and related products, Phaser FPV takes you higher and further – while ensuring a smooth ride every step of the way. As a human brand that puts its clients first, here are a few of the ways we keep giving our customers reasons to come back.
Same-Day Ship
If you place your order with us before 1pm weekdays, we'll ship it out on the same day you shopped. When we make a promise, we keep it. You'll be hard-pressed to find any Phaser order that didn't fly out of our facility on the day it was ordered.
Transparent Stock
We keep our website updated like hawks. If you see it and it says it's in stock, you can order it today and get it tomorrow via express shipping.
Highly Rated
We've spent almost a decade racking in countless 5-star reviews. Give them a read and you'll see everything we have said here is true!
Walk In Anytime
Can't wait? Then don't. We're one of the only FPV drone + accessory stores to have a physical brick-and-mortar establishment in Gosford NSW Australia. You'll get to meet one of our friendliest – and fluffiest – employees, the Phaser FPV house dog, Piper!
Tech Precision
Our handpicked team of technology experts specialize in – and are boffins on – every product we sell. This means they can answer any and all of your technical questions with confidence. Go ahead, put us to the test.
Fast Support
We welcome our customers to reach out to us via email, phone, or LIVE chat. Phaser FPV is the only FPV business to have a dedicated phone line.
Get Rewarded
Score a FREE gift on first and recurring orders, and FREE shipping on orders worth $150. We'll even upgrade you to EXPRESS on all orders over $250 (excluding heavy orders)
We're on Social
We have nothing to hide. Follow us on social, tag @PhaserFPV, and become a part of our online community and family in our facebook group.
It's clear to see why most of our business comes through word-of-mouth referrals. When you need the best in FPV, 3D Printing and PEV Vehicles, don't settle for less. Demand the best – insist on Phaser FPV.