Are you looking to buy a BetaFPV ELRS Lite 2.4GHz receiver in Australia?
BETAFPV Lite receiver is based on the ExpressLRS project, an open-source RC link for RC applications. ExpressLRS aims to achieve the best possible link performance in both speeds, latency, and range. This makes ExpressLRS one of the fastest RC links available while still offering long-range performance.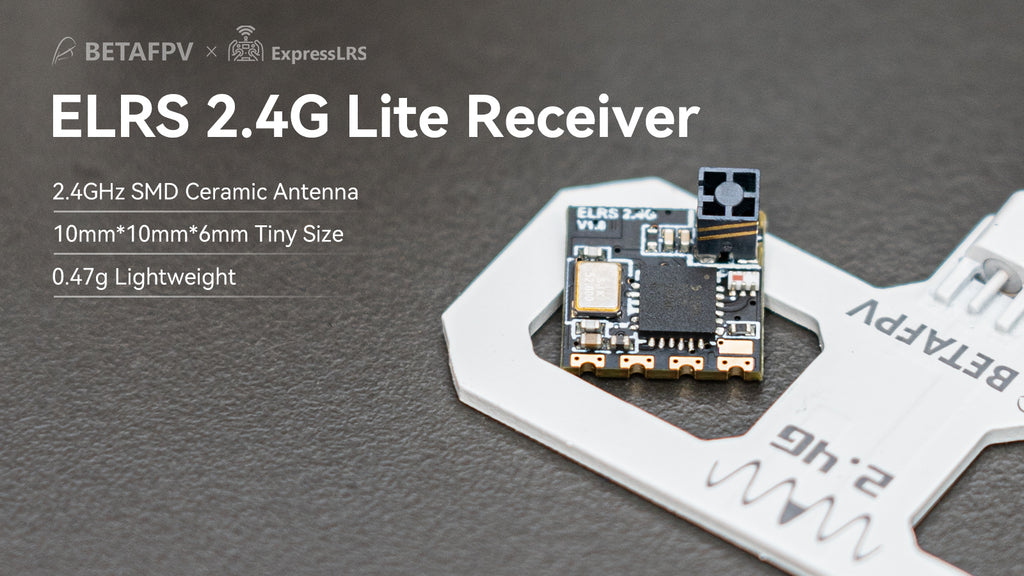 Nano RX or Lite RX
What is the major difference between Nano receiver and Lite receiver?
Nano receiver (2.4G version) is the first and (so far) the only receiver with power amplifier (PA+LNA). It has 100mW telemetry output and better sensitivity when longer range. Lite receiver doesn't have a PA/LNA on them, so its telemetry power is as what the RF chip SX1280 came with 17mW.
Beside, Nano receiver comes with normal external Dipole T antenna. Lite receiver has SMD ceramic antenna and in theory it is not so long range.
High recommend the Nano receiver if the space is enough. On 65-85mm whoop drones with limited space and need light weight, Lite receiver is a better choice.
Specification
Weight: 0.47g (with SMD ceramic antenna)
Size: 10mm*10mm
Telemetry power: 17mW
Frequency bands (Nano receiver 2.4G version): 2.4GHz ISM
Input voltage: 5V
Antenna: Integrated SMD ceramic antenna
Diagram
Lite receiver 2.4G version diagram as shown below.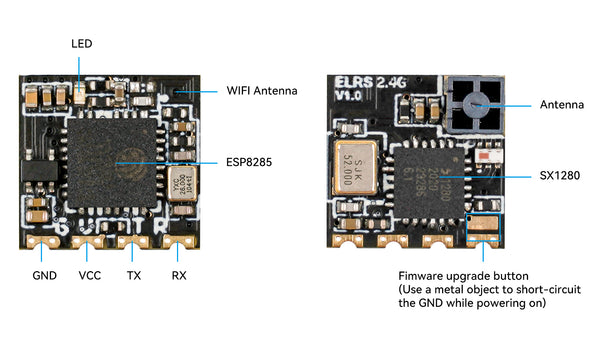 Note: The firmware version of the Lite receiver manufactured by our company is ELRS 1.1.0; ELRS Innovative team has officially released version 1.2.0, which is not compatible with the 1.1.0 version. We suggest our customers upgrade this receivers' ELRS version to 1.2.0 if needed. Significantly, the TX module and receiver have to be in the same ELRS version, otherwise, the frequency cannot match successfully.
Know More About ExpressLRS
ExpressLRS is an open-source RC link for RC applications. Everyone could find this project on Github or join the discussion in Facebook Group.
ExpressLRS is based on Semtech Lora SX127x or SX1280 hardware for RX and TX respectively. it aims to achieve the best possible link performance in both speeds, latency, and range. At 900 MHz a maximum of 200 Hz packet rate is supported. At 2.4 GHz a blistering 500Hz is currently supported with a custom OpenTX build. This makes ExpressLRS one of the fastest RC links available while still offering long-range performance.
More and more vendors start to support the ExpressLRS radio protocol in different parts, like radio transmitter with ELRS in stock, drone with built-in ELRS receiver, ELRS TX module for JR bay, or Nano bay. BETAFPV team take part in this project and provide a series of ExpressLRS components.
Configuration & Bind 
ExpressLRS uses the Crossfire serial protocol (AKA CRSF protocol) to communicate between the receiver and the flight controller board. So make sure your flight controller board supports the CRSF serial protocol. Next, we use the flight controller with Betaflight firmware to show how to set up the CRSF protocol.
The connection between the ELRS Lite receiver and the FC board is shown below.

Enable the corresponding UART (e.g. UART3 below) as a Serial Rx on Betaflight Configurator "Ports" tab.

On the "Configuration" tab, select "Serial-based receiver" on the "Receiver" panel, and select "CRSF" as the protocol. Telemetry is optional here and will reduce your stick update rate due to those transmit slots being used for telemetry.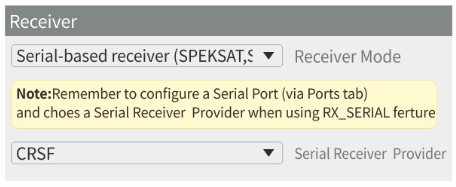 The Lite receiver comes with offically major release V1.1.0 protocol and no Binding Phrase inlcuded. Lite receiver could enter binding status by power on/off three times.
Plugin and unplug Lite receiver three times;
Make sure the LED is doing a quick double blink, which indicates the receiver is in bind mode;
Make sure the RF TX module or radio transmitter enter binding status, which sends out a binding pulse;
If the receiver has a solid light, it's bound.
Note: Binding once and the receiver will store the binding information. Re-power and the connect successfully auto.
Note: If you reflash firmware of the receiver with your own Binding Phrase, please make sure the TX module has the same Binding Phrase. The RF TX module and the receiver will bind automatically in this situation.
BETAFPV ELRS Nano receiver user manual download. (use the same manual of Nano Receiver).
Package
1 * BETAFPV ELRS Lite receiver
2 * Spare shrink tube
4 * 30awg silicon connection wires (1 black, 1 red, 1 white, 1 yellow)
Browse more
Why Choose Phaser FPV?
Here's Why 1000s of Buyers Trust Us
In the sky-high world of FPV drones and related products, Phaser FPV takes you higher and further – while ensuring a smooth ride every step of the way. As a human brand that puts its clients first, here are a few of the ways we keep giving our customers reasons to come back.
Same-Day Ship
If you place your order with us before 1pm weekdays, we'll ship it out on the same day you shopped. When we make a promise, we keep it. You'll be hard-pressed to find any Phaser order that didn't fly out of our facility on the day it was ordered.
Transparent Stock
We keep our website updated like hawks. If you see it and it says it's in stock, you can order it today and get it tomorrow via express shipping.
Highly Rated
We've spent almost a decade racking in countless 5-star reviews. Give them a read and you'll see everything we have said here is true!
Walk In Anytime
Can't wait? Then don't. We're one of the only FPV drone + accessory stores to have a physical brick-and-mortar establishment in Gosford NSW Australia. You'll get to meet one of our friendliest – and fluffiest – employees, the Phaser FPV house dog, Piper!
Tech Precision
Our handpicked team of technology experts specialize in – and are boffins on – every product we sell. This means they can answer any and all of your technical questions with confidence. Go ahead, put us to the test.
Fast Support
We welcome our customers to reach out to us via email, phone, or LIVE chat. Phaser FPV is the only FPV business to have a dedicated phone line.
Get Rewarded
Score a FREE gift on first and recurring orders, and FREE shipping on orders worth $150. We'll even upgrade you to EXPRESS on all orders over $250 (excluding heavy orders)
We're on Social
We have nothing to hide. Follow us on social, tag @PhaserFPV, and become a part of our online community and family in our facebook group.
It's clear to see why most of our business comes through word-of-mouth referrals. When you need the best in FPV, 3D Printing and PEV Vehicles, don't settle for less. Demand the best – insist on Phaser FPV.